Diet-induced obesity is a major risk factor for the development of cancer. Although alterations in inflammatory and bioenergetic pathways are critical in linking excessive weight gain to cancer, there is now sufficient evidence to also suggest disease progression may indeed have more to do with the diet itself than increased obesity per se. The diet is shaped by multiple diverse factors such as culture, nutritional knowledge, price, availability, taste and convenience. With our current knowledge on the importance of the reciprocal interaction between host and environmental factors in selecting a microbiota that favours carcinogenesis, the food consumption is critical. Given the distinct shifts in agriculture and changes in crops, food may have a pivotal role in aggravating disease. Our laboratory focuses on how changing diet is associated with cancer initiation and progression at a molecular and cellular level using mouse models with oncogene activation. We aim at dwelling how inflammatory cells crosstalk to host during disease progression, what sort of metabolic derangements are taking place in both host and tumor energy metabolism, whether altered post-translational modifications play a causative role or are just consequent to disease development and if/how microbiota is involved in these processes. Once defined in depth, the next step would be to set the stage for direct interference within any of these processes and to test the possibility for developing therapeutic interventions in mice. Our ultimate goal will be direct translation of our studies into the clinic.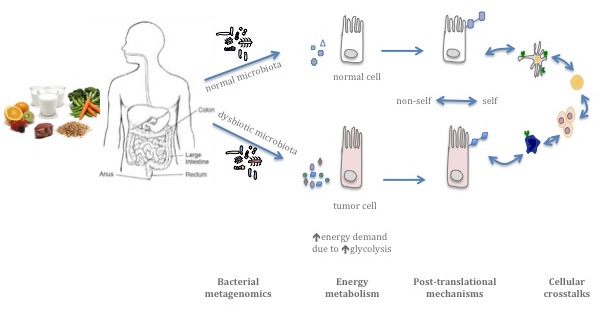 Publications from PubMed: 20
Ziegler PK, Bollrath J, Pallangyo CK, Matsutani T, Canli Ö, De Oliveira T, Diamanti MA, Müller N, Gamrekelashvili J, Putoczki T, Horst D, Mankan AK, Öner MG, Müller S, Müller-Höcker J, Kirchner T, Slotta-Huspenina J, Taketo MM, Reinheckel T, Dröse S, Larner AC, Wels WS, Ernst M, Greten TF, Arkan MC, Korn T, Wirth D, Greten FR.
Mitophagy in Intestinal Epithelial Cells Triggers Adaptive Immunity during Tumorigenesis.
Cell 2018.
174 (1) 88-101.e16
Link
Arkan MC.
The intricate connection between diet, microbiota, and cancer: A jigsaw puzzle.
Semin. Immunol. 2017.
32 35-42
Link
Arkan MC.
Cancer: Fat and the fate of pancreatic tumours.
Nature 2016.
536 (7615) 157-8
Link
Schulz MD, Atay C, Heringer J, Romrig FK, Schwitalla S, Aydin B, Ziegler PK, Varga J, Reindl W, Pommerenke C, Salinas-Riester G, Böck A, Alpert C, Blaut M, Polson SC, Brandl L, Kirchner T, Greten FR, Polson SW, Arkan MC.
High-fat-diet-mediated dysbiosis promotes intestinal carcinogenesis independently of obesity.
Nature 2014.
514 (7523) 508-12
Link
Göktuna SI, Canli O, Bollrath J, Fingerle AA, Horst D, Diamanti MA, Pallangyo C, Bennecke M, Nebelsiek T, Mankan AK, Lang R, Artis D, Hu Y, Patzelt T, Ruland J, Kirchner T, Taketo MM, Chariot A, Arkan MC, Greten FR.
IKKα promotes intestinal tumorigenesis by limiting recruitment of M1-like polarized myeloid cells.
Cell Rep 2014.
7 (6) 1914-25
Link
Li N, Wu X, Holzer RG, Lee JH, Todoric J, Park EJ, Ogata H, Gukovskaya AS, Gukovsky I, Pizzo DP, VandenBerg S, Tarin D, Atay C, Arkan MC, Deerinck TJ, Moscat J, Diaz-Meco M, Dawson D, Erkan M, Kleeff J, Karin M.
Loss of acinar cell IKKα triggers spontaneous pancreatitis in mice.
J. Clin. Invest. 2013.
123 (5) 2231-43
Link
Schwitalla S, Fingerle AA, Cammareri P, Nebelsiek T, Göktuna SI, Ziegler PK, Canli O, Heijmans J, Huels DJ, Moreaux G, Rupec RA, Gerhard M, Schmid R, Barker N, Clevers H, Lang R, Neumann J, Kirchner T, Taketo MM, van den Brink GR, Sansom OJ, Arkan MC, Greten FR.
Intestinal tumorigenesis initiated by dedifferentiation and acquisition of stem-cell-like properties.
Cell 2013.
152 (1-2) 25-38
Link
Seleznik GM, Reding T, Romrig F, Saito Y, Mildner A, Segerer S, Sun LK, Regenass S, Lech M, Anders HJ, McHugh D, Kumagi T, Hiasa Y, Lackner C, Haybaeck J, Angst E, Perren A, Balmer ML, Slack E, MacPherson A, Manz MG, Weber A, Browning JL, Arkan MC, Rülicke T, Aguzzi A, Prinz M, Graf R, Heikenwalder M.
Lymphotoxin β receptor signaling promotes development of autoimmune pancreatitis.
Gastroenterology 2012.
143 (5) 1361-1374
Link
Scheibel M, Klein B, Merkle H, Schulz M, Fritsch R, Greten FR, Arkan MC, Schneider G, Schmid RM.
IkappaBbeta is an essential co-activator for LPS-induced IL-1beta transcription in vivo.
J. Exp. Med. 2010.
207 (12) 2621-30
Link
Arkan MC, Greten FR.
IKK- and NF-κB-mediated functions in carcinogenesis.
Curr. Top. Microbiol. Immunol. 2011.
349 159-69
Link
Bennecke M, Kriegl L, Bajbouj M, Retzlaff K, Robine S, Jung A, Arkan MC, Kirchner T, Greten FR.
Ink4a/Arf and oncogene-induced senescence prevent tumor progression during alternative colorectal tumorigenesis.
Cancer Cell 2010.
18 (2) 135-46
Link
Khasawneh J, Schulz MD, Walch A, Rozman J, Hrabe de Angelis M, Klingenspor M, Buck A, Schwaiger M, Saur D, Schmid RM, Klöppel G, Sipos B, Greten FR, Arkan MC.
Inflammation and mitochondrial fatty acid beta-oxidation link obesity to early tumor promotion.
Proc. Natl. Acad. Sci. U.S.A. 2009.
106 (9) 3354-9
Link
Bollrath J, Phesse TJ, von Burstin VA, Putoczki T, Bennecke M, Bateman T, Nebelsiek T, Lundgren-May T, Canli O, Schwitalla S, Matthews V, Schmid RM, Kirchner T, Arkan MC, Ernst M, Greten FR.
gp130-mediated Stat3 activation in enterocytes regulates cell survival and cell-cycle progression during colitis-associated tumorigenesis.
Cancer Cell 2009.
15 (2) 91-102
Link
Eckmann L, Nebelsiek T, Fingerle AA, Dann SM, Mages J, Lang R, Robine S, Kagnoff MF, Schmid RM, Karin M, Arkan MC, Greten FR.
Opposing functions of IKKbeta during acute and chronic intestinal inflammation.
Proc. Natl. Acad. Sci. U.S.A. 2008.
105 (39) 15058-63
Link
Greten FR, Arkan MC, Bollrath J, Hsu LC, Goode J, Miething C, Göktuna SI, Neuenhahn M, Fierer J, Paxian S, Van Rooijen N, Xu Y, O'Cain T, Jaffee BB, Busch DH, Duyster J, Schmid RM, Eckmann L, Karin M.
NF-kappaB is a negative regulator of IL-1beta secretion as revealed by genetic and pharmacological inhibition of IKKbeta.
Cell 2007.
130 (5) 918-31
Link
Lickteig AJ, Slitt AL, Arkan MC, Karin M, Cherrington NJ.
Differential regulation of hepatic transporters in the absence of tumor necrosis factor-alpha, interleukin-1beta, interleukin-6, and nuclear factor-kappaB in two models of cholestasis.
Drug Metab. Dispos. 2007.
35 (3) 402-9
Link
Arkan MC, Hevener AL, Greten FR, Maeda S, Li ZW, Long JM, Wynshaw-Boris A, Poli G, Olefsky J, Karin M.
IKK-beta links inflammation to obesity-induced insulin resistance.
Nat. Med. 2005.
11 (2) 191-8
Link
Arkan MC, Leonarduzzi G, Biasi F, Başağa H, Poli G.
Physiological amounts of ascorbate potentiate phorbol ester-induced nuclear-binding of AP-1 transcription factor in cells of macrophagic lineage.
Free Radic. Biol. Med. 2001.
31 (3) 374-82
Link
Leonarduzzi G, Sevanian A, Sottero B, Arkan MC, Biasi F, Chiarpotto E, Basaga H, Poli G.
Up-regulation of the fibrogenic cytokine TGF-beta1 by oxysterols: a mechanistic link between cholesterol and atherosclerosis.
FASEB J. 2001.
15 (9) 1619-21
Link
Leonarduzzi G, Arkan MC, Başağa H, Chiarpotto E, Sevanian A, Poli G.
Lipid oxidation products in cell signaling.
Free Radic. Biol. Med. 2000.
28 (9) 1370-8
Link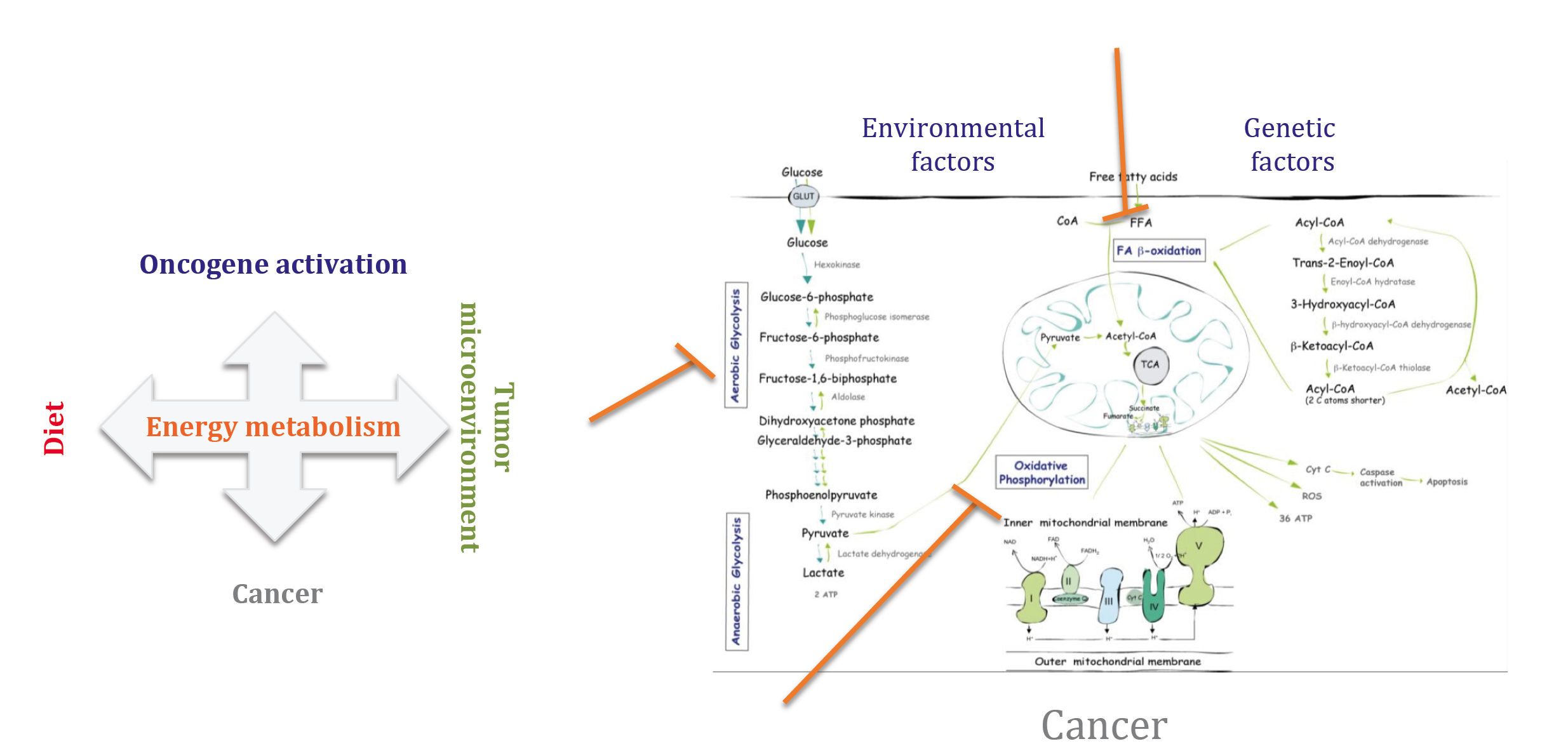 Interaction of environmental factors with genetic factors under disease context involves whole lot of alterations in the host and tumor cell bioenergetics. Our studies focus on the critical derangements in energy metabolism during disease initiation and progression, which may set the stage for future drug discovery aimed at developing therapeutic interventions against diet-induced cancers.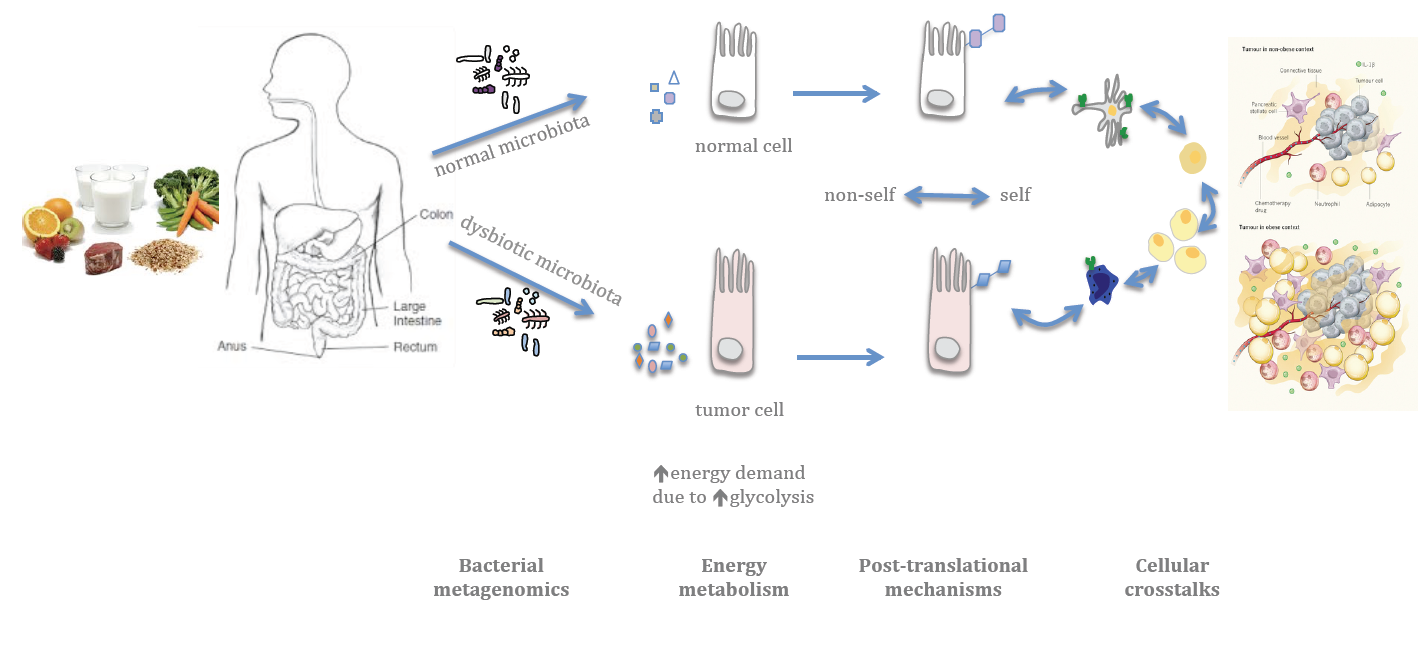 Diet is vital but excess intake or imbalanced macro- and micronutrient constituent of it can employ deleterious effects on cancer development. Interaction of environmental factors with genetic factors under disease context involves a complex crosstalk between host, bacterial community that colonizes our gut and the immune cells of the tumor microenvironment. Our studies focus on how changing diet is associated with profile, function and expressed activities of these during cancer development and whether personalized nutrition could become an option for therapeutic interventions against diet-induced cancers.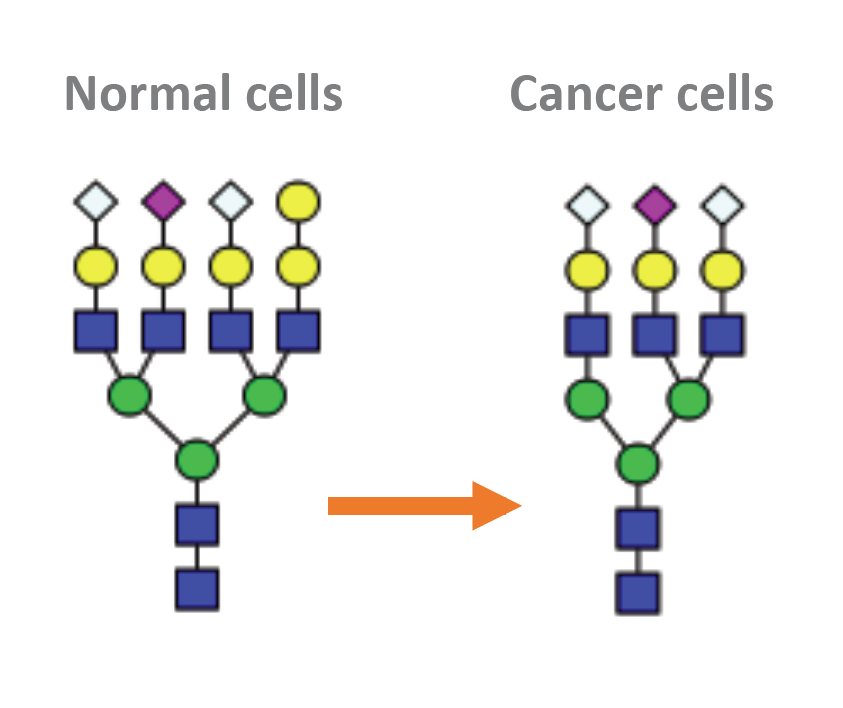 Screening methods and early prevention options in determining disease risk are only partially successful leading colorectal cancer to be the third most common cause of cancer-associated death with a high mortality rate due to increased metastasis at time of diagnosis or in a later stage of the disease. Tumor cells display a wide range of glycosylation changes compared to non‐transformed tissue. Thus, we aim at elucidating glycan structures and their contribution to disease development. Since glycosylation is a reversible modification and highly susceptible to environmental factors, characterizing glycans under a diet context can set the stage for early detection biomarkers and future drug discovery aimed at developing therapeutic interventions against intestinal cancer.